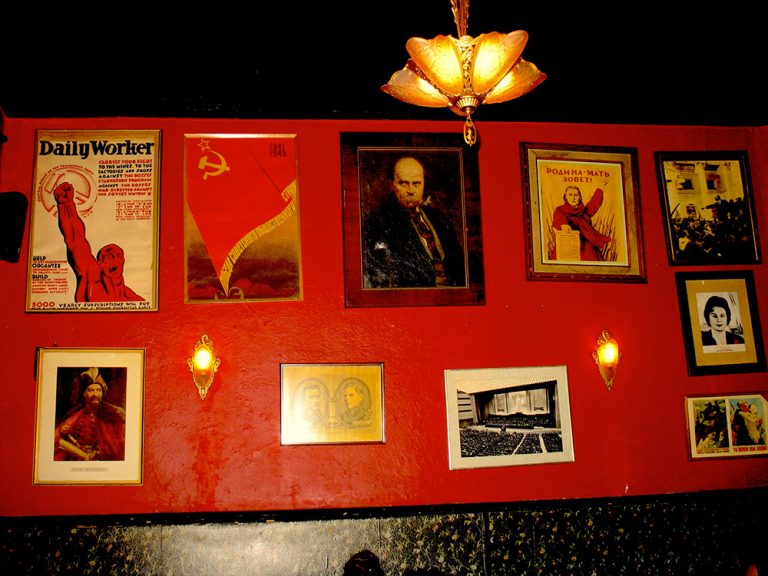 85 E 4th Street houses the Kraine Theater, the famous KGB Bar, and, its latest edition, the Red Room. Though there is much discussion about its individual parts, the building as a whole has a long and rich history, much of which is evident. The owner, Denis Woychuk, is one of the wittiest, warmest people I've ever met, and is quick to open up.
As we sit and chat in the Red Room, he's quick to relate everything that's happened in 85 East 4th: "In 1838 this building was built. Think about this. The Civil War is almost 30 years in the future. Lincoln's wearing short pants and studying his grammar, he's… I really don't know what Lincoln was doing."
Almost since the start, the building was used for political purposes. "In 1878, this building was the first headquarters for the Women's Aid Society in America," Denis says. Concerns for worker's rights, particularly immigrant worker's rights rose at the beginning of the 20th Century, and by 1911, the same year as the Triangle Shirtwaist Factory Fire, the building was occupied by the cloak maker's union. "This was a big union part of town," Denis notes, saying that Union Square wasn't named after the café. The building became such a political hub that Emma Goldman, perhaps the most famous anarchist of her time, presented to the Secret Society of Anarchists in this building. "The irony, of course, is 'as reported by The New York Times,'" Denis chuckles. "So, 'big secret,' you know?"
But its rebellious history doesn't stop there. During Prohibition, the bar became a speakeasy run by Lucky Luciano, the father of modern organized crime. This is where the art deco style of the bar comes in. "The stained glass behind the bar, that's original," Denis says. Fifteen years after the Prohibition ended, because of anti-communist attacks and McCarthyism, the building went back to its workers' rights beginnings as the Ukrainian Labor Home bought the building and took refuge in this space which had now become so accustomed to keeping things hidden. When Denis talks about the building, he does so like it's an old friend he's had the pleasure of knowing. The building was still a Ukrainian Labor Home when Denis, who was born and raised in Brooklyn, started going with his father, a Ukrainian immigrant, who would come to the Ukrainian Labor Home to drink.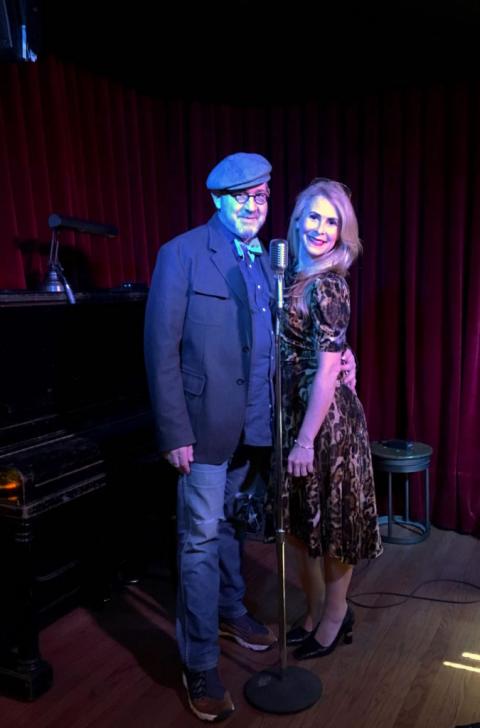 After college, Denis put himself through law school by teaching. He found he enjoyed teaching his art students better than his law students. "Surprise! Shocking, right?" he says. "It was much more interesting, what [the art students] had going on in their heads." This inspired him to open up Kraine Gallery and Kraine Theater on the first floor of 85 East 4th. 'Kraine' was short for 'Ukraine.' "That's what a hipster I was, right? 'Take that 'U' off there. Kraine club baby!'" Denis laughs at himself. While Kraine Gallery is long gone, Kraine Theater remains, and so does the Kraine Gallery's legacy. Fun fact: though Denis wanted to call the bar KGB because of its covert history and the covert nature of the bar when it opened, KGB actually stands for Kraine Gallery Bar. It was the only way Denis was given permission to call it 'KGB.'
Around this time, Denis became a lawyer for the criminally insane and wrote and published two children's books. Meanwhile, the second floor of 85 East 4th was still run by the Ukrainian Labor Home. He became close friends with the little old ladies who cooked upstairs. "You could get a soup, a salad, a three-course meal with meat, potatoes and a vegetable and a shot for five dollars," Denis says. "It was insanely cheap even then." He held parties in the Ukrainian Labor Home once a week, letting artists eat cheap and giving the 80-year-old owners some customers. It was this friendship that got him the bar in 1993, when they couldn't run it anymore. From the start, he knew, "I didn't want to have a sign. I wanted it to be true to the whole speakeasy thing." People told him again and again that this was a bad idea, "A business with no sign is a sign of no business," they said. But he stuck to his instincts. "The thing about New York is, if nobody knows about it, everybody wants to go." Along with not having a sign, he kept the original art deco glass and the original propaganda posters from days past.
In 1994, KGB Bar started doing literary events, thanks to a helper of his from Columbia University. When they had a reading for Frank Browning's Culture of Desire, The New York Times sent a reporter. The article read "New Literary Series at KGB Bar." Denis remembers his reaction: "Oh, look, we have a new literary series. The Times can't be wrong." He hadn't thought of it as a series before. He started getting people to read every Sunday night. Then with the help of Star Black and The New School's David Lehman, KGB started a poetry series. It didn't take long for KGB to become a literary hub. They popularized readings in bars with no fee, with the hope listeners might buy a drink or two. "I was influenced by the beats," Denis says. Going to bars in New York after coming back from college, Denis says "it was disco balls and pinky rings," the era of John Travolta. He remembers thinking, "smart people want to have drinks, too."
At the same time the reading series started getting popular, Denis wrote a book, about his experience representing the criminally insane, Attorney for the Damned, which was published in 1996, the same year he decided to quit his day job to manage the bar and raise his children full time. The reading series started picking up a lot of famous people, Denis recalls, "We got Jonathan Ames, Jonathan Franzen, Jonathan Safran Foer… some more Jonathans." Junot Diaz was discovered by an agent while reading at the KGB. Michael Cunningham and Daniel Handler enjoy reading there. Joyce Carol Oates was the first to read in the Red Room, though it wasn't what the Red Room is today. It was formerly a black box theater painted red, and Denis was forced to book it because he had accidently double-booked Joyce Carol Oates and Victoria Looseleaf for the same night. He deprecates his management skills. Nowadays, the managerial duties are performed by Lori Schwarz. "I'm expecting her to take over the KGB any day now," he says. And what's Denis's favorite reading? "After Robert Polito and David Lehman?" Denis laughs, remembering he's talking to a New School rep. "After those two? Those are one and two in whatever order you decide." His "third favorite" is David Foster Wallace. Denis remembers fondly his bartender, Dan, famous in his own right as the bartender of KGB since its inception, was Wallace's opening reader.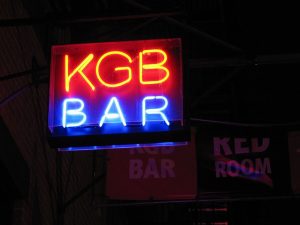 The reading series became so popular that he eventually had to refuse readings on the weekends. He remembers being recognized by George Plimpton from The Paris Review: "He awards us the best literary series in New York…. He says, 'You know, in terms of the quality of what they offer, it's very high level, but the 92nd Street Y charges 15 dollars to get in and KGB has a live, full bar, so I'm going to give the award to KGB.'" At this time Denis was forced to get a sign since writers were having such a hard time directing their fans on where to attend their readings, the irony being that he didn't need to get a sign in order to gain business but because of it. This was also around the time reading series in bars were catching on. "But here's the thing, you don't open a reading room to make a lot of money, because it doesn't." Denis says. "People will not pay 5 dollars on a regular basis to see someone read."
He decided to remodel the black box Red Room into today's Red Room, when his youngest daughter went to college. "I need a project every year," Denis claims. In addition to his aforementioned projects, he has also written a few musicals, including one by the same name as his book Attorney for the Damned. On New Year's Eve of 2013, his project for the year was complete and the Red Room opened, a true revival of the speakeasy 85 East 4th once was, complete with a bath tub made for bath tub gin. Once a month, the Red Room hosts a 20s-themed Absinthe party, called the Green Fairy. Though the Red Room as it stands today is by far the youngest performance space of the building, it maintains a busy schedule, hosting readings and jazz gigs every week. The Red Room is also reminiscent of the days of Kraine Gallery as it frequently hosts art shows, showcasing different visual art forms on the walls of the space. While Denis views KGB Bar as his "25-year-old dive bar," he sees the Red Room as a performance space, a place to take a date, "you can have live music, but it's not so loud that you can't talk."
In everything Denis does at 85 East 4th, he sees himself as someone who is there to serve and support artists. "[Artists] need to commune. No one is an artist in a vacuum. They're usually part of a movement…. I'm here to give people the opportunity to share their art." Denis smiles. "I'm here to serve my community. What can I get you?"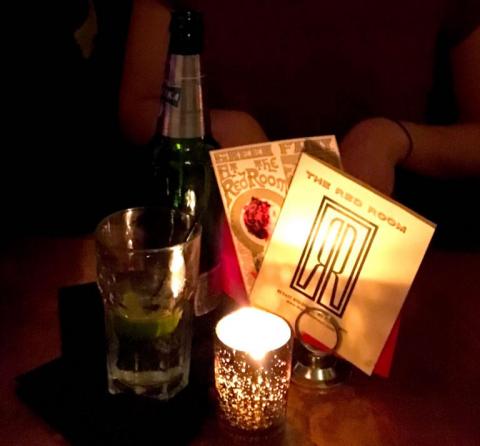 Original Article